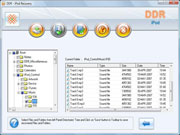 iPod data recovery Software
iPod data recovery Software is developed specifically for iPod music lovers. Utility is designed to recover data from Apple iPod models including Mini, Shuffle, Nano, Classic, Touch and iPod latest models in all generation series. The music recovery software is considered as the easiest functionality to fix and restore all time favorite songs, photos, video clips etc lost from iPod mp3 player.
iPod music recovery Software recovers saved songs, images, pictures, video, audio, photos, mp3, mp4 files from Windows 98, Windows NT, Windows 2000, Windows XP, Windows Vista, Windows 7 Operating System series.