Searching Criteria
Three searching modes are available to user i.e., Standard Search, Advance Search and Raw Search.
1.Standard Search
Standard searching mode is used in case of files, directory and other data lost due to unintentional/intentional deletion, virus/worm infection, software/hardware failure and human error.
2.Advance Search
Advance search mode is used to recover data from formatted partition drive or other data recovery which is not possible using standard search.
3.Raw Search
Raw search mode is used to recover picture files or data.
These three search mode has been pointed in the figure shown below: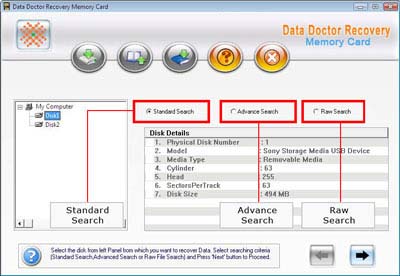 1.Standard Search

Select disk drive from left panel first then "Standard Search" option will be selected. Click on Next button to continue.